A 'Forever Stamp' for a forever freedom fighter, Dorothy Height
Besides discovering Dorothy Height in practically every history book worth its salt, especially when it comes to prominent African-American women, there was her ever resourceful family to provide a more intimate portrait of her. Most rewarding was her nephew, Daniel Aldridge, is one of my best friends, who regaled me with story after story about his remarkable aunt.
Then there was Height's sister, Anthanette, who lived in Queens on 94th Street, and I often made it my business to visit her either on my way to LaGuardia or upon returning from a trip. She, too, had a wealth of memories about her famous sister.
More Americans than ever will soon be aware of Height and her glorious hats since her visage now adorns a Forever Stamp issued two weeks ago by the United States Postal Service. Perhaps Height's most notable achievement is the 40 years she spent as president of the National Council of Negro Women, from 1957 to 1997. In this capacity, she administered a host of affairs on voting rights, poverty and other issues germane to the health and welfare of Black Americans.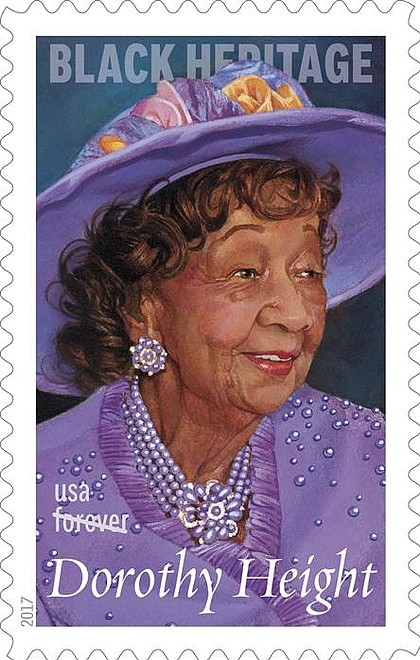 U.S. Postal Service
Dorothy Height Forever Stamp
Born Dorothy Irene Height, March 24, 1912, in Richmond, Va., she came of age in Rankin, Pa., not too far from Pittsburgh. One of the stories her relatives told me was about Dorothy's early years when she won an oratory contest with the U.S. Constitution as her subject. She was the only Black person in the contest and made it all the way to the finals delivering a talk on the 13th, 14th and 15th amendments. An all-white jury awarded her first prize—a four-year college scholarship
In 1933, she graduated from New York University with a bachelor's and master's degrees in educational psychology. Her training as a social worker and her involvement with the YWCA, combined with her activist nature, prepared her for a future in the civil and human rights struggle.
She became an unwavering advocate for Black domestic workers in the 1930s, a dedicated freedom fighter, particularly as a participant in the campaign to free domestic workers from often oppressive, slave-like conditions, as well as becoming a tireless volunteer for the YWCA. In fact, with the Y, she was soon a leader in the organization's drive for integration. This was a steppingstone to her membership in the National Council of Negro Women, where she was elected the organization's fourth president in 1957.
From this esteemed post her presence was elevated in the Civil Rights Movement, and with her array of wide-brimmed hats, she was a noticeable fixture at marches, rallies and protests, to say nothing of conferences where she seemed to be a permanent panelist. She was so ubiquitous in the fight for equal rights and against discrimination that she was considered the only woman among the so-called Big Six of civil rights leaders. Roy Wilkins, Whitney Young, A. Philip Randolph, James Farmer and John Lewis were the others.
In one of her big and colorful hats, she was conspicuous at the historic march on Washington in 1963, sitting near Dr. King as he spoke. She was among a coterie of significant Black women on the podium, none of whom was on the roster to speak. In 1971, she, along with Gloria Steinem, Betty Friedan, Shirley Chisholm and others, founded the National Women's Political Caucus.
Source: http://amsterdamnews.com/news/2017/mar/09/forever-stamp-forever-freedom-fighter-dorothy-heig/